Ontario PC leader Doug Ford draws the crowds. What does he do with them?
BY SAMUEL PICCOLO The VOICE
W
hen he appears
through the doors the music begins—always 'Eye of the Tiger,' always from the nine-second mark. The crowd roars, lion-like, as they catch a glimpse of him. From a distance he is somewhat handsome, despite his odd, block-like proportions. The mid-winter tan, the appropriate amount of oil in his pale hair, the only-just-visible eyebrows, the well-fitted suit, all mildly appealing.
Doug Ford, who has to smile a lot—meaning that often he looks like he's grimacing—beams a genuine grin as he enters the hall, a ballroom at the Holiday Inn in St. Catharines, and sees the 400 or so people who have come to listen to him on short notice on a windy Wednesday night, a month before the provincial election campaign actually begins.
Ford ambles—brother Rob always seemed to teeter—along the front line of seats, shaking hands firmly, clapping backs vigorously, finally mounting the stage and grabbing hold of the microphone.
News of the man's impending arrival was put out by local Progressive Conservative candidates only the previous weekend. Niagara West-Glanbrook MPP Sam Oosterhoff called it one of the "famous Ford Nation rallies," and suggested that people forward the notice to their family and friends so as to gift them the chance to "experience the excitement and energy" of the gathering.
Ford's staff certainly amplified this message. Colin Brown, a stubbled young staffer who was cueing-up "Eye of the Tiger" on a cellphone, said that he's never seen a politician talk like Ford.
"Just wait and see."
Other staffers walked down the aisles of chairs carrying tall and narrow "FORD" signs, hawking them like ballgame hot dogs.
"We try and have them spread out," said Brown. "They always go fast."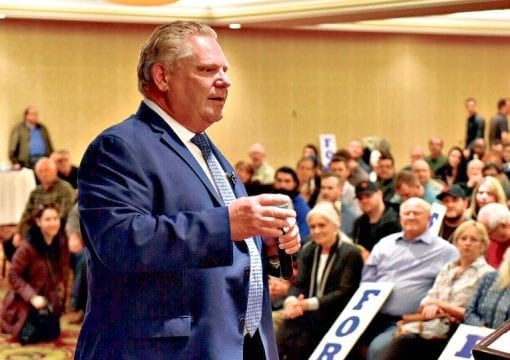 Ford's roving press secretary, Melanie Paradis, who was spiritedly ricocheting around the room before Ford's arrival, phone in hand, phone plugged into laptop, laptop hugged to chest, said that they get it every night.
"Five hundred people in Hamilton yesterday," she said. "It happens everywhere we go. I've never seen anything like it."
But people believe they have seen something like it. Since Ford won the PC leadership last month, comparisons to Donald Trump have rolled in.
On the day after Ford's appearance in Niagara, a regular columnist for the Toronto Star reeled off ten points of comparison between Doug and Donald, calling them "interchangeable."
The list ranged from the pair's efforts to "guard against defeat by suggesting votes might be stolen from them," to alleged criminal acts—the accusations of sexual assault against Trump, and the Globe and Mail's expansive investigation that alleged that Ford was a well-known drug dealer in the 1980s.
The columnist conceded from that start that, "Ontarians who loathe Donald Trump are now liking Doug Ford."
Certainly at M.T. Bellies in Welland, Ford's first stop in the region, supporters at the bar were having none of the comparison.
"They want to paint [Ford] as some kind of extremist, but he's just not," said one man, who had come to meet the politician he said was going to change the political culture at Queen's Park. Trump, by comparison, was just a lot of talk and chaos.
"I don't think that wall is ever going to happen," the man said. "Congress won't go along with it."
Paradis called the Trump comparison "lazy," and said that Ford is mobbed every night by hundreds of supporters "because he's approachable, and he listens."
Ford was approached at M.T. Bellies. He was there for a half-hour or so, guided around the room by Oosterhoff, shaking hands, signing coasters.
Two men named Brad and Bill wore custom Ford t-shirts printed with one of Ford's favourite catchphrases: "We're going to cap taxes and trade Kathleen Wynne."
One of the men stretched a shirt taut so that Ford could scribble his signature on it.
After Ford was ushered along, Brad held up the shirt.
"Hey Bill! I got it signed," he called across the room.
As the end of the budgeted time approached, Oosterhoff tried to usher Ford more quickly to the rest of the tables.
"No one controls Doug," said Oosterhoff, perhaps trying to add to the mystique. "But we can help him along."
The Trump parallel, however persuasive in print, is less convincing in person. Around Ford's rally there is a buzz and the attendance to produce it, but there is none of Trump's frenetic electricity. Trump is the great improviser, P.T. Barnum-meets- Cornel West-meets-Pat Buchanan—growling, ranting, careening, gesticulating, snarling—suspending the audience on the high wire, calling on them to prowl with him past the sign warning, "Danger: Thin Ice."
Ford does none of this. While he uses no notes and doesn't falter, and looks more comfortable than in press conferences—where he tends to read in a stilted voice, eyes on the page—at his rally Ford delivers only the PC's greatest hits with smooth lane-changes: hydro rates, the carbon tax, hospital wait times, unnecessary bureaucrats, the blocking-out of the grassroots.
Where Trump revels in catcalling, mocking, mimicry, and demeaning nicknames, and boasts of past victories real and imagined, Ford barely mentions his surprise triumph in the snap PC leadership race.
He barely mentions his business background, and the only echoes of Trump's "bigs" and "beautifuls" are when Ford makes note of his "massive social conscience."
(Last Thursday, Ford defended his planned absence at a debate put on by organizers in Toronto's black community, telling reporters that he has "massive support" among black Torontonians. "I love them, they love me," he said. Trumpian tone aside, the Ford family does actually have a history of support from many in Toronto's black community.)
Back Ford into a corner and he is known to hiss like a mongoose. In 2012 he alleged that a Globe and Mail reporter who investigated brother Rob's use of city staff for his football team was lying, suggesting that she get off her "lazy ass."
The reporter was pregnant at the time.
He alluded to a Toronto Star reporter as a "little bitch," and later asserted he had been referring to someone else. He accused a TV reporter of a "jihadist attack" against him and later apologized.
He said that a home for autistic teenagers in Etobicoke had "ruined the community," and told the father of an autistic child to "go to hell" when the man filed a code of conduct complaint over Ford's comment. He launched an attack on former Toronto Police Chief Bill Blair during brother Rob's crack-tape debacle, only to later say that he wished he hadn't, and that, "sometimes I get a little rambunctious, sometimes."
Ford was not backed in any corner on Wednesday. He made friendly mention of the ever-present Liberal staffer who follows him around.
"Where is he?" called out Ford. A man a few rows back raised a hand, but didn't look up from his lap, where he was noting away.
"He's a good guy. He's just doing his job, collecting a paycheque. We'll even give him a ride home tonight," offered Ford, before shifting back to Wynne.
Above all, Doug Ford is vague. He is vague at M.T. Bellies, where he is asked by a reporter if he would remain committed to GO Train service to Niagara by 2021.
Ford says that he would want to "review the plan to make sure it's a solid plan." When reminded that every municipality in Niagara has already voted in favour of it, he says that he'd want to talk to the people.
Ford's vagueness resulted in a mild furor the next day among politicians in Niagara, with the consensus being that the GO issue has already been settled.
Ford's spokesperson released a statement saying that while Ford will review the matter, "the people of Niagara should not be worried."
When asked by the Voice about the Places to Grow Act, legislation that mandates high-density development in certain areas, he again veered into banalities.
"Definitely up to the people," says Ford. "I'm always in favour of empowering the local government. Letting them make decisions with the people. I would like to review everything, speak to the people."
At M.T. Bellies and at his rally, Ford says that it's about empowering people above government—a broad statement few would disagree with—but gives no indication of what this would mean.
Vagueness extends to his yet-to-be-revealed platform. Though he offers specifics about the PC plan on the minimum wage, he explains his oft-repeated pledge to find $6 billion in efficiencies by saying only that he'll go through the budget "line-by-line," and use "best practises" and "technology."
"We don't need focus groups or polls," Ford tells the crowd, saying that he'll talk directly to the people—a tough proposition in a province of 13.6 million.
Ford's attacks on the "elites" are well-documented, as is the irony that he himself—like Donald Trump—was born into a wealthy family.
University of Waterloo political science professor Emmett MacFarlane told the Huffington Post that Ford is a man "patently unqualified for public office and who seeks to breed an anti-intellectual, anti-evidence cynicism into our politics."
But if you listen closely enough, it seems that the attacks on elites really just refer to people who support Liberal policies. Ford tells the crowd that the people know better than the government, but then he says that it's going to be doctors and nurses—i.e. experts—whom he listens to on health care policy. Kathleen Wynne's longtime health minister was Dr. Eric Hoskins. The current minister is Dr. Helena Jaczek.
"I surround myself with people in their areas of expertise," said Ford.
Even his lampooning of Kathleen Wynne is vague and half-hearted, especially in comparison to Trump's frothing about "Crooked Hillary."
At the rally, Ford shouts out, to applause, that Ontarians are finding "Kathleen Wynne's hand in their pocket," and then, when they check the other, find that Justin Trudeau is fleecing them too.
He calls out Wynne on Sunshine List salaries and insider paydays, but the actual accusations are unspecific. There is no mention of gas plants, of deleted emails or wiped hard drives, of the OPP, no mention of the Sudbury bribery trials.
Even the previous two PC leaders were willing to be more pointed: both Tim Hudak and Patrick Brown were sued by Wynne for defamation, though neither suit turned into much.
You hear about Ford that he has this ineffable tell-it-like-it-is-ness about him, yet it just doesn't materialize in person.
The rally's most jagged barb didn't even come from Ford himself. He was stringing along a series of grievances about Liberal management, about Wynne appointing herself Minister of Agriculture despite having "never grown a tomato plant," and taking a picture on a tractor at some ill-advised photo-op, when a woman in the front row delivered the punchline.
"She should be on the manure spreader," she yelled out. Ford guffawed.
"I'm going to stay away from that one. That one could get me in trouble," he said, smiling, before realizing that the zinger wasn't going to do anything of the sort. "But I agree with you."
When Ford finished speaking, giving the last applause line that brought the crowd to its feet, "FORD" signs held high, he was mobbed. Several handlers tugged at his sleeves and the stage was swarmed, photos snapped from all directions.
But then, quite quickly, someone politely asked the crowd to line up around the wall, be patient, and wait their turn, and everyone did so without a fuss.
Across the United States in 2016, a writer followed the Trump phenomenon from city to town, trying to get a handle on the animosity that had grown between red and blue America. Half the people he met thought Trump was the Antichrist. The other half tended to carry signs reading, "DONALD J TRUMP A GUARDIAN ANGEL FROM HEAVEN."
"Although to me, Trump seems like the very opposite of a guardian angel, I thank him for this," the writer wrote. "I've never before imagined America as fragile, as an experiment that could, within my very lifetime, fail. But I imagine it that way now."
We cannot imagine Ontario that way now. Let us be thankful for that. ◆