Board president calls off AGM after attempting to eject observers; tenants engage in occasionally heated discussion
Last Thursday morning, two days after the Voice published an investigation of the Pelham Non-Profit Housing Corporation, the corporation was to hold its Annual General Meeting, the only board meeting that tenants are permitted to attend. The newspaper's story last week detailed tenant allegations of improper fees and apartment entries, bullying, and governance perceived to be secretive.
The main targets of tenant concerns were building manager Catherine King, superintendent Mike Fairman, board president Geoff Kirkwood, and vice-president Jake Dilts.
Before calling the meeting to order in a large common room on the building's ground floor, Kirkwood requested that all non-tenants leave the gathering. Five non-tenants, including two Voice staff, were present at the invitation of building residents.
"This is only open to residents of the building," said Kirkwood. "We extend the courtesy to the tenants to come and observe, it is not open to other people."
Scott Beamer, whose father and mother —Pelham Mayor Ralph Beamer and his wife Barbara—live in the building, told Kirkwood that he was present as an advocate for his parents, who are both in their 80s.
"I know who you are sir, but you're not a tenant of this building, and I'm asking you to leave," said Kirkwood.
Former Pelham Town Councillor Sharon Cook, who also served on the building's board for ten years, was at the meeting in place of tenant Pam Young's son. Kirkwood asked her to leave anyway.
Voice Publisher Dave Burket told the board that the meeting was a matter of public interest, and that the Voice would remain.
Tenants Pam Young and Elaine Champagne asked Kirkwood to show them where in the corporation's by-laws it stated that non-tenants were not permitted to attend board meetings.
"If that's in the by-laws, would you please read it for us?" said Young.
Kirkwood said that he didn't have the by-laws with him. On April 16, Young sent a letter to the board asking them to have copies of the by-laws present at the AGM.
Young also requested that the floor be opened to questions from tenants. On the meeting's agenda, no such time was allotted.
Speaking again to non-tenants, Kirkwood said, "If you don't leave, then I will cancel the meeting. The meeting is cancelled."
Tenant Lea Berkhout asked Kirkwood why the presence of non-tenants was such a concern.
"What harm is it going to be for them to listen?" she said. "What are we talking about that's so [secret]?"
"It's a private corporation with rules and by-laws," replied Kirkwood. "We extend the courtesy to tenants to come and observe."
"The problem with this [place] is the secrecy that goes on," said tenant Elaine Champagne.
"No other comments in this room except here at the executive table," declared board vice-president Jake Dilts.
"This open session is cancelled," continued Kirkwood. "As a board, we will have our financial meeting and by-laws, and we'll have that in a different venue and proceed accordingly."
Kirkwood did not call the meeting to order, and did not take a vote either to cancel or move it.
Kirkwood did not respond later to the Voice when asked to identify the by-law giving him the authority to unilaterally cancel meetings, nor did he identify the by-law that prohibited non-tenants from observing the AGM. Kirkwood also did not respond when asked to clarify a rationale for any such policy.
Kirkwood's insistence that non-tenants leave the room exposed divisions among the approximately 30 tenants in attendance. All non-tenants, including the Voice, were present at the request of one or more residents. Some expressed displeasure that a story about the building had appeared in the paper.
Tenant Gary Puhl called on the board to remove Voice staff.
"Get them out. Call the police," said Puhl, who asserted that the Voice had made life difficult for him.
"We can't go anywhere because of you bastards," he said.
"Out, out," said board vice-president Jake Dilts. "I'll call the police."
But by the time Dilts spoke, Kirkwood had already cancelled the meeting. Those present at the board table rose and left, as did some residents, leaving some two dozen tenants remaining. Discussion turned immediately to the story published in last week's paper, with strong opinions expressed loudly by all sides.
Sharon Cook asked tenants to remain respectful of each other.
Tenant Jenny McLagan said, "Why did [they] get the paper involved?"
"Apparently, some people have had more difficulties in some situations that others," said Cook.
"Why put it in the paper?" said McLagan.
"Perhaps because [they] weren't getting any satisfaction," replied Cook.
Barbara Beamer, one of the tenants who initially approached the Voice, said that she felt compelled to go public because there was no venue for residents to have their concerns heard, saying that they may not have gone to the paper, "if we had a tenants' association we could've taken some of our issues to."
A universal complaint among the tenants who spoke to the newspaper was that the president of the tenants' association, Sandy Jacobs, was uninterested in addressing operational concerns. When Beamer explained that she and others went to the paper because the tenants' association was not effective, Jacobs grew agitated.
"Because that would be all the time you bitching," she yelled at Beamer.
Cook told her that such words were not respectful.
"It's true," said Jacobs. "I don't care. I'm really pissed."
Jacobs turned to Voice staff.
"Don't print anything of what I said," she said. "Or I'll go after you. I mean it. I don't want anything printed of what I have said. Do you understand me?"
Susan Gibbard-Welsh said she is moving out because of superintendent Mike Fairman's alleged repeated entries of her apartment. She chastised Jacobs for attacking the tenants who were speaking out.
But while several tenants were upset with their neighbours who spoke to the Voice, the meeting progressed to a point where most agreed that a change in governance was required.
"There should be more directors," said former Mayor Ralph Beamer. "There should be one or two directors from the tenants. At least try it for a couple of years. Let's make this place friendly. It's a great place, but [the management] needs an attitude adjustment."
Sharon Cook contrasted the board's current approach with how things were when she was a director.
"We had seven people, and our door was open for all meetings. Nobody was sent away. You could sit, and you could listen, and at each meeting there was an opportunity for tenants to speak."
"This is a non-profit building. It's paid for," said Bill Champagne. "[The board] must have a five-year or a ten-year plan. Why don't we know about this? That the plan is to replace the roof in five years? What's wrong with telling people that?"
Sandy Jacobs announced that she would be resigning as president of the tenants' association. Most of those present agreed that they would seek to elect a new president in June who would address all concerns.
"Sandy does a wonderful job with social things," said Jenny McLagan. "She cooks things for us, she arranges dinner."
The other tenants agreed that Jacobs is a capable convenor of social events.
In a follow-up telephone conversation, in which the Voice requested comment, Jacobs said she had nothing further to say.
McLagan's husband, Hugh, spoke as well.
"We agree with that if they're coming into your apartment they've got to give you notice. If you're not there, come back another day. But if you've got a problem, get the tenants together. Don't go to the newspaper. That didn't help."
"It did help," said Pam Young. "It brought attention to our plight."
"It brought hard feelings," said Jenny McLagan.
Elaine Champagne said that she was uncomfortable with some of the details included in the article.
"I have to tell you that I didn't like all the information in the newspaper," she said. "But I have come to the conclusion that sometimes that's what it takes to get people's attention."
Champagne said that building manager Catherine King had resolved some of her concerns.
"When they can't be resolved, why then can't we go to the governing body?" said Champagne.
"Catherine has a boss, and so does Mike," she said. "The board doesn't even have anything to do with us. We're not even allowed to speak here this morning unless we have special permission. Then they know what we're going to ask. That takes our clout away. In that case, where else do we go? We go to the newspaper, because we need a voice."
Tenant Brian Hunt said that he didn't think that the goings on at the building were relevant to the general population, and called for a stronger tenants' association instead.
"It should all be resolved here," he said. "It should be resolved by the tenants' association. Nothing will ever be resolved whilst we have a board that is not responsible to the tenants' association. You're going to have to go politically—contact your MP, the Region, Councillors, put pressure on them to get things changed. All that's happened here is bickering."
Cook urged the tenants not to let the Voice's original investigation of the building be the last the people read of it.
"Now the newspaper knows that the tenants here have their power back," she said. "You've organized yourselves. Don't let the last issue be the last thing that people read. Let people read that things are going to improve."
Hunt said that the tenants' association's main objective ought to be getting representation on the board.
"The tenants' association will have to have a plan to do that," he said. "If you're even going to come close, it has to come from political pressure. It's a closed club. Nobody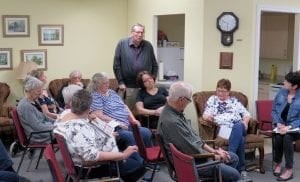 gets involved without the people that are on there [approving them]."
Ralph Beamer said that it was "pretty easy" to make a decision on a board with just four directors. "The smaller number you have, the more power those people have."
"They can do that because they're not responsible to anyone," said Hunt.
Pelham Regional Councillor Brian Baty is calling on Niagara Regional Housing, which provides funding for 20 tenants in the building, to investigate the allegations made by tenants in the Voice.
"At the outset I would expect a summary of what concerns have been brought forward in the past and how were they acted upon. Built on that historical review, I would expect a full investigation moving forward so that current and future residents' concerns can be allayed," said Baty.
"Personnel matters, as always, should be undertaken with regard for due process. It is my hope that these matters will be resolved expeditiously."
Pelham's other Regional Councillor, Mayor Dave Augustyn, declined to comment.
Niagara Regional Housing board member and Niagara Falls Regional Councillor Selina Volpatti called Kirkwood's cancellation of the open AGM "unbelievable."
"Obviously something is going to have to be done about this," she said. "As a member of the NRH board, I'm very concerned. As NRH and the Region, which provides the money for the subsidies, we cannot tolerate putting our tenants in a place where they're not treated well. That's the bottom line. We send them to these places in all good faith that they're going to be treated well by their landlords."
Later last Thursday, a notice was delivered to all tenants.
"It is unfortunate that the meeting could not move forward this morning but that does not diminish the importance of sharing information," read the letter, which went on to invite tenants to an hour of "open dialogue" this past Monday evening, as the Voice was going to press. It was unclear who from the board or management planned to attend.
"We understand that the community in which you live has been sadly upset and we are most interested in finding out what we need to do to put that life back on track," concluded the letter.
Tenant Pam Young said of the gesture that it was,"too little, too late."
Young said that the board's refusal to meaningfully engage with tenants for years has demonstrated what she termed its inability to properly govern the building. She said that Geoff Kirkwood's decision to cancel last week's meeting rather than allow observers to attend, and Jake Dilts' threat to call the police, were only the latest instances of this inability.
At the planned "open dialogue" on Monday, Young said that she and a group of tenants were going to demand that the board's by-laws be released, that all of its meetings be held openly, that a new board be appointed, and that spots for tenants are provided on the new board.
Young said that going to the newspaper was the last resort for those who came forward.
"But if it wasn't in the paper, no one would have even been talking about it," she said.
"Once we get a new board—with tenants participating—that will be the last thing in the paper. Then we can go back to our lives."