Treasurer and now Interim CAO Teresa Quinlin has a mountain of debt to tame; a public, wary of past Town assertions, to convince; and an arena she'd like to sell
BY DAVE BURKET
The VOICE
L
ightning may not strike twice, but opportunity
certainly has for Teresa Quinlin. For the second time inside two years, Quinlin has stepped in to fill a position vacated by a Pelham Town Council firing. In May 2017 she retired from retirement to come on as Interim Treasurer, upon the dismissal of Treasurer Cari Pupo, and last week she was named Interim Chief Administrative Officer within an hour of CAO Darren Ottaway's departure from Town Hall. After three months as Interim Treasurer, Quinlin was permanently hired for the job in August 2017. Will we see a permanent CAO Quinlin by the end of May?
A Chartered Accountant with a B.A. from Brock and an MBA from Niagara University, in New York, Quinlin spent the majority of her career at Niagara College, from which she retired, in 2015, as Vice President of Business Development.
On her LinkedIn page, Quinlin describes herself as a "self-motivated, energetic leader with demonstrated expertise in corporate and financial services...with a keen sense of organization and a high degree of personal integrity and professionalism."
Her tenure in Pelham has surely tested the limits of this expertise and professionalism—Quinlin was immediately thrown in to the deep end of Pelham's financial pool.
Months of evasive and incomplete explanations by the previous Town Council brought a wholesale change of government last autumn—the final act of this drama arguably the former CAO's firing last Monday.
No longer needing administrative permission or clearance to speak however she wishes, Quinlin's message is blunt: the Town of Pelham needs money, and soon. How it's raised will be up to council, but one way or another, we need cash.
Next Monday, February 11, the Town will host a presentation and listening session at the community centre regarding the fate of the old arena property on Haist Street. The Voice spoke to Quinlin about this and related topics last Thursday at Town Hall, barely into her third day as Interim CAO. The following has been edited for brevity and clarity.
BURKET: What do you hope to accomplish at the public meeting on February 11?
QUINLIN: Well, this is a great opportunity for the public and the new council to get an update on the consultative process that the Town undertook to arrive at the preferred plan. So it's a time for us to share with everyone what the process was, because I think there's been some misunderstanding on how the Town informed the public on what was happening with the land. We just want to talk about what was done, and then we want to share what the current preferred plan is that has been approved by council. Our Director of Community Planning and Development, Barbara Wiens, she'll come and do the presentation. I think it's important that the public knows the importance of selling this land. As the Treasurer, I will be talking about the financial impact to the Town about this land sale. It's not only for the cash flow, but also it's to avoid additional costs and expenses that the Town would incur if they kept the property. We would have to demolish the arena building, and we would have to have remediation on the soil that's there. So there are costs that are going to be incurred if the arena does not get sold.
Let's talk about that a little bit, because I think particularly the neighbours in the area who attended these meetings last year were under the impression that they were being sort of forced to choose— I think it was three options that were not very palatable, none of which included keeping the arena as-is. You just said that there would be expenses connected to retaining the facility. What sort of expenses are we talking about. For what and how much?
I would have to get more details from the Director of Public Works, because there's physical structure issues to that building, and that's one of the reasons why the Town moved to build a new community center as opposed to putting money into retrofitting that building. I know that when it was built in the early '70s there was an initial design, and then they changed the design. And in doing that, something happened with the cinder blocks and there was a structural issue. This meant that steel beams had to be used to support it—to buy time until they could build a new community center. I think it would not be safe without putting in additional funds. That's my understanding.
Let's assume that's the case. Now we move on to holding onto the property—not selling it to a developer—and demolishing the building. How much would that cost?
The estimate that we received would be about $500,000 to demolish the building. Then what—convert it to a park? Just have it all as a park? Then there would be remediation of the soil. The soil would have to be treated because of what the facility was. The estimate from what I heard would be another half a million dollars. So we're talking approximately a million dollars if you wanted just to demolish the building, remove it, and do the remediation. But these are just estimates.
Could be more, could be less.
Could be more, could be less.
One of the points of contention going back about a year was whether or not there was any actual cash in the reserves. The previous mayor was saying, "Well, what we don't have in cash, we have in assets. And that's what we're going to call reserves." So I'll ask you. Do we have any cash in our cash reserves?
The answer's no. The cash was spent to purchase assets.
So how does the ordinary person understand this definition of "cash reserves." Basically, we have no reserves.
That's correct. The plan is that when the development happens, then the reserves will be replenished by the revenue that's coming from the development. Because some of the costs had been up-fronted. That's what happened before I came here. As I've mentioned in my presentations, right now the Town is asset rich and not as much cash.
Do we have any cash? Ballpark, how much.
Can I just get back to you on that? I've been working on the capital budget, and the number fluctuates. [Quinlin responded with the figure the next day, reporting that the Town's current cash balance was in the negative, specifically a debit balance of $893,000 dollars. This would suggest that the Town does not have cash on hand, but rather has a credit line—similar to a consumer credit card—on which to draw as necessary. Quinlin added that the Town's available credit line is $7 million dollars, meaning that a little over $6 million dollars remains available. "This is allowed by the Municipal Act," wrote Quinlin, "where we can borrow up to 50% of our tax levy to September 30, then it is a maximum of 25% by December 31."]
So we need the cash for capital projects.
Yes, the capital budget's coming to town council. We have a list of carry-forward capital projects of about $2.6 million dollars. Carry-forward means that they're projects that were approved in prior years, but not completed by the end of December. I would use the arena land money to offset those expenses.
Would it be possible to further delay those expenses?
No, because the projects have started. They've been awarded.
There's also payment of the bridge loan coming due, for the community center.
That's $13.5 million dollars. Right now, we're paying interest on it, and so it's coming due when we sell the land. Infrastructure Ontario is working with us, and they understand the situation that we're in. Our goal is by the end of this year. That's the goal.
How much interest are we talking about, and is it in monthly payments?
Yes, monthly payments. [The next day, Quinlin provided numbers on principal and interest payments. Each month, the Town pays nearly $31,000 in interest on the community centre's construction bridge loan. Total principal and interest for the Town's community centre debt—including two debentures (i.e., loans)— for fiscal 2018 was just over $2.7 million dollars, with a like amount budgeted for 2019.]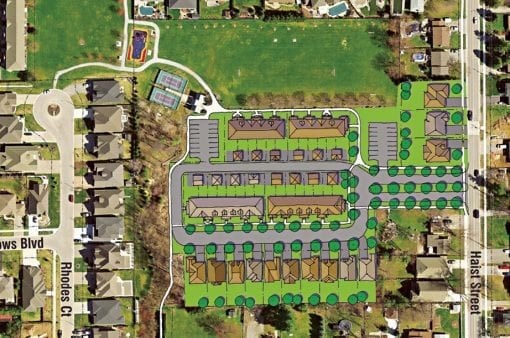 If residents were determined to hold onto the arena property, you're saying that the costs to them, to the Town, would be a million dollars minimum.
That's just an estimate right now. It could be more. But then there's the loss of $3 million dollars of sales revenue.
So setting aside whether it sells or not, and for how much, just turning it into an empty field, it's a million dollars. How much would that add to the average property owner's tax bill to pay for it?
Every $130,000 in expense is a 1% tax increase. So just divide a million by $130,000. [By this formula, taxes would rise just under 7.7%, for one year, to retain the land and demolish the arena.]
That's assuming you would expense it all in one year. Would you actually do that?
You could do all that work in one year. You could. Don't forget you also have the loss of revenue from the residential properties you didn't build, you lose that property tax. So the loss in revenue is not only the actual sale of the land, which is approximately $3 million dollars. It's also the future loss of property taxes, in perpetuity. What's important for us is just to explain to everyone the current state of things. So this is the current state. The current state is we have an approved plan of development. We have land that's been declared surplus, ready for sale. These are the pros and cons of selling the land. All this information and feedback from the public, it will go back to council, and then the council can decide. Whatever council decides is what we do.
Are there any other extraordinary expenses that'll be coming up in 2019, impacting the budget?
We're coming to council on the 4th of March with the operating budget. We're working on it. We'll focus on the capital budget first, and then we'll bring the operating and water/waste water budget. The operating budget is day-to-day expenses. So it would be your salaries, your road maintenance, fire, anything to do with the operations of the Town. Capital is any expenditures relating to an asset—equipment, roads, water main, sewers. Think of capital as the infrastructure.
And taxes are probably going up anyway, right?
I haven't brought that to council yet. We're still working on that number.
But they are going to go up.
They're going up.
I guess the central message here—or at least what I'm hearing— is the Town needs to sell the arena property. The Town needs the money.
That's true.
If the Town had quite a bit of cash in the kitty, it would happily spend a million dollars to turn that into a park rather than develop it.
But it's also a very nice neighborhood, and people do like to live in there. It's a nice area that you can build homes and people would purchase them. It's not as if that doesn't fit in. It does. There's a park there that's remaining. I think that's the important part for people to understand that the park will stay there.
The soccer field and the playground.
The goal has always been to keep the existing park. We really don't have a choice in this matter. I don't mind. You can quote me on that. We really don't have a choice. If we're going to accomplish anything as a town in the next year, we need this money. And I don't mind going on record saying that.
What do you think? Should the Town keep or sell the arena.
Take the poll and let us know.
While you're here...consider taking out a Voice Membership to express your support for local journalism.