As the pandemic pushed city-dwellers to seek larger and more affordable living spaces outside of Toronto, some small towns in Ontario experienced a surge in home prices to unprecedented levels in 2021. However, the tides have since turned, and property values in these towns are beginning to decline.
A new Economic Viewpoint from Desjardins suggests that not only will home prices continue to fall across Ontario as a whole before eventually bottoming out in the second half of 2023, but that some regions will see sharper declines than others.
"Ontario has posted the biggest decline in prices of any province since the market peaked nationally in February 2022," reads the report, which was authored by Desjardins' Senior Director of Canadian Economics, Randall Bartlett, and Principal Economist, Marc Desormeaux.
Amid the pandemic, the desire for more space when working and educating children from home pushed Ontarians further afield. This unprecedented demand subsequently drove up house prices as well.
"Home prices rose significantly in the GTA, but not nearly as much as they did in smaller Ontario communities or nationally for that matter. And these places are expected to continue seeing the biggest correction," reads the report.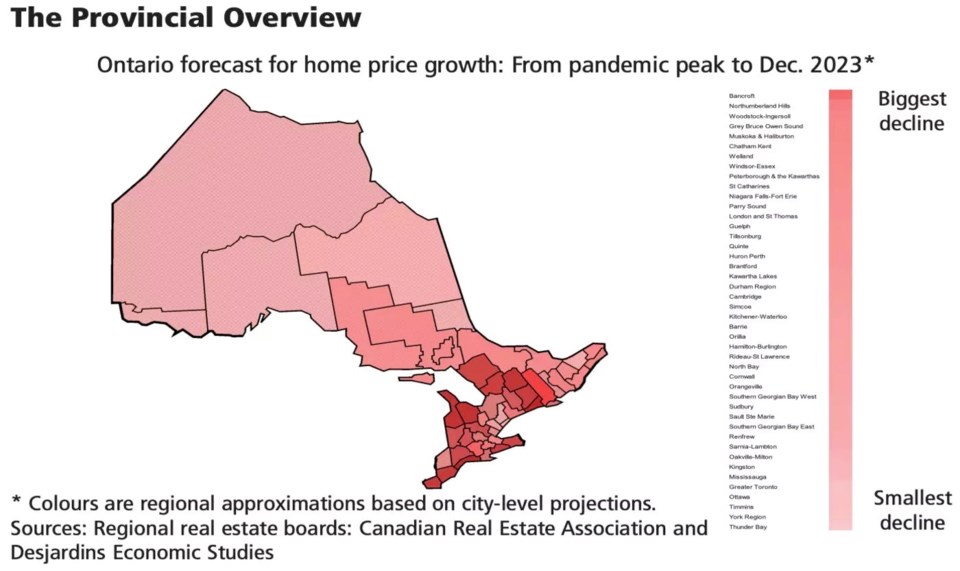 Bancroft, Ontario, which is roughly 2.5 hours from Toronto, is expected to see the greatest decline in property values. The small community was followed on the list of biggest expected price declines by Northumberland Hills, Woodstock-Ingersoll, Grey Bryce Owen Sound, Muskoka and Haliburton, Chatham-Kent, Welland, Windsor-Essex, Peterborough and The Kawarthas, and St. Catharines.
According to the report, smaller communities like Bancroft, Parry Sound, Quinte, Renfrew, Northumberland Hill, Muskoka and Haliburton, Woodstock-Ingersoll, and North Bay saw their average home prices more than double from December 2019 to peak. However, these same areas are now experiencing the largest price corrections, and the trend is expected to continue.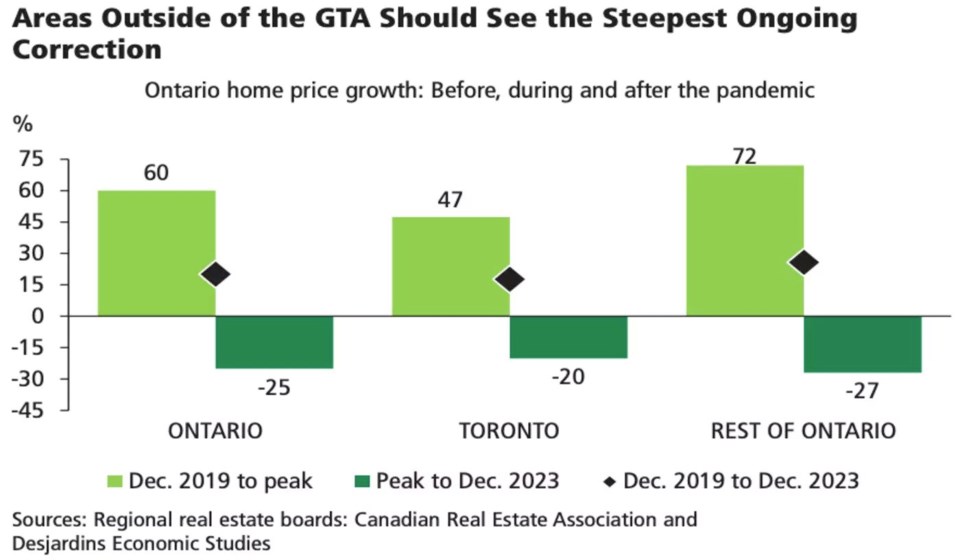 The report's authors write that, while housing affordability has eroded all over Canada in recent years, Ontario has been the hardest hit, leading to an uptick in residents moving to other provinces.
In fact, families have been leaving the least affordable parts of the province for greener pastures elsewhere in Ontario. Residents have also been leaving Ontario altogether, with the Atlantic provinces being the preferred destination since the start of the pandemic, and Alberta more recently.
While interprovincial migration theoretically should alleviate the pressure on local housing markets, the report suggest that this is not happening due to high levels of international migration and net non-permanent resident admissions.
"Affordability is still stretched everywhere, and that's unlikely to change significantly in the coming years. Accelerating population growth and easing construction activity therefore raise the stakes for policymakers to deliver on affordable housing objectives," concludes the report.
"So policymakers should take up the mantra 'location, location, location' and focus their affordability measures on overpriced markets."