Plus cigars,
tenant troubles, and vandals
BY SAMUEL PICCOLO Special to the VOICE
At the end of Foss Road, near where it meets Victoria Avenue, there is an empty storefront at the beginning of a long strip of land. From the street, you can see the edge of a great pond—more like a lake—that stretches back down the property and out of sight. On one of the first warm days of spring, the place's owner, Henry Bieda, pulled up to the side of the building in an orange Kubota.
He dismounted, squinted into the sun, pulled a soggy cigar from his mouth, produced a blue Bic lighter, held it to the ashy end in his hand, and flicked his thumb.
Bieda was in, for him, a bad mood. In the parking lot in front of the building, which used to be where his business sold farm equipment, ski-doos, snowmobiles, and other motor vehicles, was a truck being loaded with furniture and clothes and all other bits of odds and ends. After a riotous month, his tenants were moving out.
Bieda, who is 78, walked inside the vast, empty garage where he used to store equipment. He mounted some stairs and opened the door to his apartment. An enormous Great Dane raised its head off the couch where it was splayed. Seeing it was Bieda, the dog stepped down onto the floor, sending a tremor through the room, and padded over to his owner. A garbage can full of kibble stood near the door.
"This is Fabian," said Bieda, patting him.
"But I call him by his Polish name, Fabic. He weighs two hundred pounds. Two hundred and four actually."
Bieda sat on one of the burgundy leather couches arranged around the room. A powerful odour of humidor hung in the air. Bieda lit his cigar again.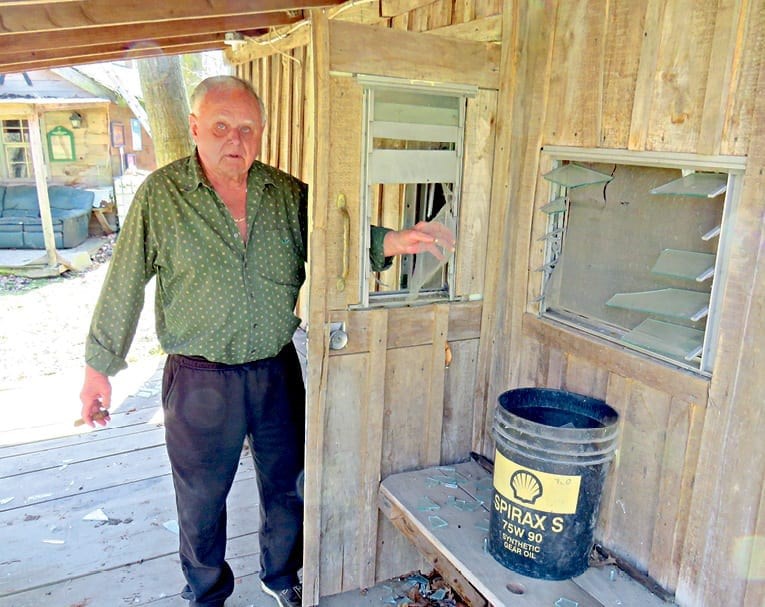 "I spent five hours in jail on Easter weekend," he said. "I was here with some friends of mine, and we were having some drinks with the tenant and his girlfriend. He was pretty smashed. We were joking around—I said that he was kind of a fat slob. But I was kidding. And he went nuts—he kicked me off my stool and I fell down, hit my head, got a big bruise on my side."
One of Bieda's friends present said that she was going to phone the police the next morning.
"But what she didn't know is that [the tenant] was already on the phone with the police, and he told them that I had come in with a handgun and threatened to kill him," said Bieda. "So that brought them out here."
Bieda stopped his story and sighed, shaking his head. Then he continued.
"When I got back from jail, they'd taken my dog into their apartment, and the door was locked," he said.
According to Bieda, he asked them to let his dog out.
"He called the police again. He said that I had come into his apartment and threatened him with a knife. I didn't even enter the apartment. He was lying through his teeth."
This time, Bieda said, the police discounted the story of his tenants. A short while later, Bieda was at the top of the stairs leading up to the two apartments with the tenant's girlfriend, while the tenant was at the bottom of the steps. The two exchanged words.
"Then he took a boot and was charging up at me," said Bieda. "His girlfriend grabbed my arms from behind me and held them. Then he put his hands on my throat. I couldn't move my arms, but I had a lit cigar in my mouth. I poked it forward right into his mouth."
While recounting the story, Bieda jerked his head forward with his cigar between his teeth.
(Bieda's former tenant, who moved out shortly afterward, did not respond to a request for comment.)
Back outside, Bieda's mind turned to the other matter weighing heavy upon it: vandals. He climbed into his Kubota and closed the door.
"I've got a few cabins out back in the woods," he said as he drove down a dirt road alongside the lake, which covers some 12 acres. "Sometime last weekend a group of dirt-bikers came out and tore up all the trails. Then they smashed all the windows."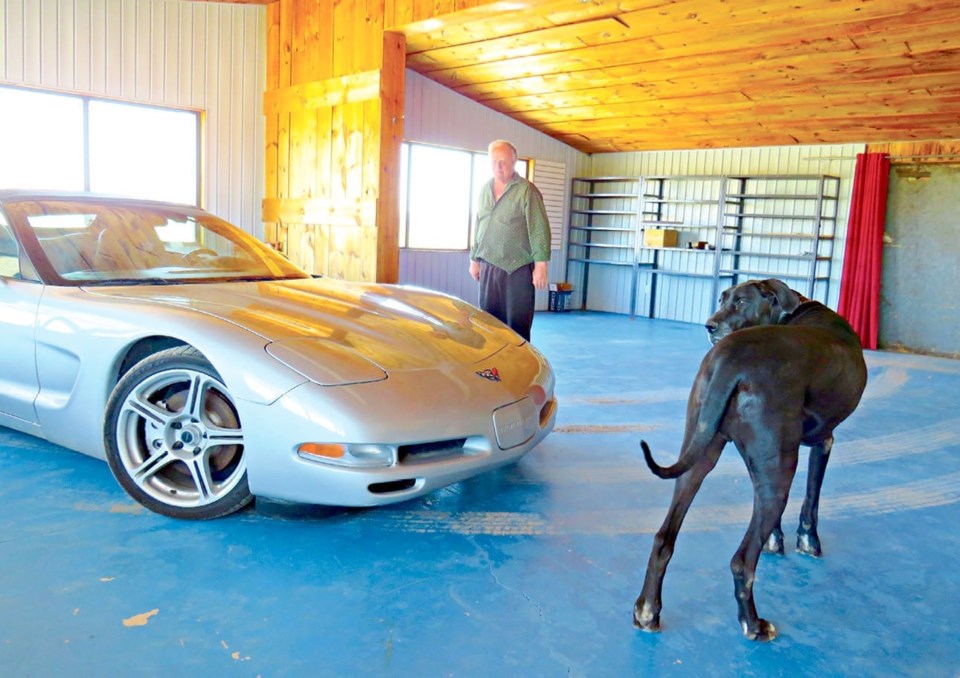 He pulled the Kubota up a dirt ramp and down the other side, and then turned into the woods. Two cabins stood in a small clearing.
Bieda walked up to the first one. He stepped gingerly on to its porch, which was strewn with glass.
"Broken window here, broken window here, destroyed screen here," he said. "They even broke the lightbulbs."
Inside the cabin, which had more of the aura of a trailer, there were bits of glass all over the floor.
"I know it hasn't been used much in a while. But I'm still really hurt about all this," he said.
The other cabin was in better condition, and looked to have been better kept in recent years. Its porch was coated in mud, and a leather couch on the stoop was smeared in dirt.
"They got inside this one too—got in through the window. Thankfully they didn't do any damage," he said.
Bieda said that in the 20 years he's had the cabins in the woods, he has had a persistent problem with vandals.
"They stole my generator, and they're always riding their bikes through the fields. I grow soy there, and they destroy it," he said. "I can't do anything about it—I can't chase them down in this." He gestured to the Kubota.
"I'm tired of calling the police. They don't do anything. What's wrong with people, that they'd be coming and doing this on private property?"
Dejected, he returned to his Kubota and drove back by the lake. Where the bank flattened out, he turned the wheel sharply into the water, and drove in several feet.
"Don't panic," he said. "I'm just cleaning off the tires."
When Bieda's business still sold ski-doos, prospective buyers could use the lake to test drive a new machine. Bieda also used it as a training ground for driving snowmobiles—in the summer.
"I rode a snowmobile across Lake Ontario," he said. "In June."
In 1988, Bieda indeed rode a snowmobile, slightly modified, from St. Catharines to Toronto in 42 minutes. The practice is called "watercross," or "snowmobile skipping." The machine's large track and skis can keep it afloat as long as the driver doesn't let up on the throttle. Typically, the snowmobile must enter the water with a little bit of speed, but Bieda said that this isn't always necessary.
"As long as I had a good surface under me, and not gravel or something, I could start with the tips of the skis in the water," he said proudly.
Though Bieda was the first to cross a Great Lake using a snowmobile during the summer, the crossing was not officially acknowledged by Guinness World Records. In a letter sent to him at the time, Guinness said, "We do not anticipate opening up a new category in respect of snowmobiles. The only record we currently publish is for an endurance distance."
The next summer, Bieda tried doing just that. At the 1989 Welland Rose Festival, he did laps of the old canal for nearly two hours, going a total of 162 kilometres, a record at the time.
"I sank when I ran out of gas," he said.
In 2007 he tried to set a new record, though high winds and waves on the canal sunk his snowmobile before he could really get going. His original machine from the late 1980s, on which his most successful runs occurred, still sits in storage near the entrance to his apartment. Plaqued news clippings hang on one wall.
Bieda's walls are also dotted with pictures of old pets, ones no less extraordinary than Fabic.
"That was a cougar," he said, pointing to a picture of a leonine cat wearing a purple collar. "I called him Belmar, like the security company. He was a great pet. I had to have his claws removed and always keep him tied up outside. If not he'd scare people too much. One woman saw him and got so scared that she drove her car off the road into the ditch."
One woman saw him and got so scared that she drove her car off the road into the ditch
Belmar, Bieda said, died in an accident.
"He strangled himself. He wrapped his rope around the tree so it got really short. And then he jumped over a branch, and the rope wasn't long enough to reach the ground. He died before I got to him."
Twenty years on, Bieda still sounded distraught.
Next to the pictures of Belmar were ones of Bieda handling a raccoon.
"I found him all alone on the road when he was a baby," he said. "Somehow he got under the wheel of my car. When I backed out…"
Bieda also had an African grey parrot.
"This thing knew a hundred and fifty words. It talked in complete sentences. It would say something and you'd think, 'How the hell did he say that?'" The parrot, too, met an unfortunate end.
"The cougar got ahold of him," said Bieda. "He lived for a day after, but something was wrong inside."
Fabic has demonstrated more staying power. A friend of Bieda's paid $3000 dollars for him as a puppy, and then had to give him away.
"The bloodlines of Great Danes go back thousands of years. The Greeks bred them for hunting," said Bieda, chewing on his cigar.
Fabic looked up at him and shook his great head. His ears slapped against his jowls with the sound of a towel smacking the surface of a pool.
When Fabic had again laid down on his couch, Bieda picked up an accordion resting on a nearby table. He undid the clasp and, putting a hand on either end, slowly pulled the bellows apart.
"I don't read music. It's one hundred percent by ear," he said. "I play the mouth organ too—I've been playing that since I was seven or eight. I started the accordion later. My father had an accordion, but I lost that in the fire."
Bieda started playing a folksy Eastern European tune, rocking from side to side on the couch.
"When I have a few drinks, people come down and I play it. It's a button accordion. Not like one with piano keys."
When I have a few drinks, people come down and I play it
Bieda put aside the accordion and pointed to a picture on the wall, in which he was seated beside former Polish President and Nobel Peace Price winner Lech Walesa.
"He sat right on this couch," said Bieda, patting the leather. "That's another story."
Hearing his tenant thumping about in the other apartment, Bieda went down the stairs to see how the moving was going. Fabic padded along behind him. In the empty front of the building, which was at one point the main entrance to the store, junk was strewn all over, racks of clothes, lines of shoes, boxes of books, a bike, tables, furniture.
"They were running a little flea market with the stuff here. And I was letting them use the space for free," said Bieda, shaking his head again at the injustice of his situation. But he kept walking past all of the things, and through glass doors at the end of the room, through which a silver convertible could be seen.
"This is my 1999 Corvette. It used to belong to Dale Earnhardt," said Bieda proudly. "It's for sale. I'm firm on twenty thousand." He opened one of the doors and eased himself down into the driver's seat. Fabic went over to the other door. His head reached the mirror. He was at eye level with Bieda.
Bieda turned the key and the engine growled, filling up the small room.
"I just don't drive it much anymore," he said. "I have other cars."
When he had clambered out of the seat, Bieda patted his dog on the head and went back from where he came, past all of his tenant's junk, and into the sunlight. He pulled his cigar, now only a stub, from his teeth and peered into the back of the half-full moving truck and then turned away, his brow furrowed. 
"They have two days to have everything out. It doesn't look like that'll happen," said Bieda, replacing the cigar to his mouth and chomping down.
He looked troubled as he walked around the corner of his building that was empty of his stuff but full of someone else's that he wanted gone, perhaps anticipating another fight ahead. 
But there was no conflict. Two days later the tenant was gone. All of his things too. ◆
Originally published July 2018.
POSTSCRIPT
On March 4, 2020, Niagara Regional Police were called to Henry Bieda's property following a report of a vehicle in a pond. Bieda was discovered trapped in the vehicle. With Pelham Fire Department assistance, he was extracted and taken to hospital. It's unknown how long he had been trapped. Sadly, Bieda, 80, succumbed from his injuries on March 16, 2020. Police said that foul play was not suspected.