On Sunday night he won Best Folk Artist of the Year at the Niagara Music Awards, Ridgeville-based performer on life at home and on the road
T
he most
stressful moment on a Thursday last month for Spencer Burton, the 33-year-old singer-songwriter who lives in Ridgeville, came just after lunch. Having seen the old one towed away in the morning, he was showing off his newly-built chicken coop to Doug and Mary, his neighbours, when a small bird squeezed between his legs and through the door's open crack. Usually, an escaped chicken is no real concern, Burton said as he scrambled into action—they are relatively slow-moving and typically eager to come for a handful of feed.
This one was different. Burton picked up a fishing net that lay against a nearby woodpile and made several wild passes, but each time the escapee felt or saw the whoosh of the net approaching, and, with a squawk, accelerated its walk and flapped its wings just enough that Burton's sweep bottomed out too early and arced away.
Eventually, he managed to trap the hen in the six-inch gap between the henhouse and larger barn, which holds goats, and sent Doug to the other side to block the way through. Holding the net in his left hand, Burton grabbed a broom with the other and, gently at first, then with greater impatience, pulled the chicken towards him until it popped out straight into the net, twisting and hooting.
"That's a $100 bird––and it's basically wild at this point." Burton said, as he triumphantly returned it to its roost. Seeing Doug's confusion, he clarified: "It's a very rare Indonesian one. They stay fairly small and black—black bones, black feathers, black eyes, black everything."
"Black eggs, too?" Doug asked.
"Nah, it's a cream egg. I wish they laid black eggs. That'd be really cool," Burton replied. He latched the door firmly. After walking the couple down to the driveway and saying goodbye, he sat on a chair on his deck and produced a paring knife and peach, seemingly from nowhere.
Burton's combination of green rubber boots, muddied jeans, and white undershirt was not out of place in the garden, but his ornate belt buckle and intricately tattooed arms were the mark of someone with his toes in another world. Even his hands revealed this duality: his palms were lightly callused from handling an axe or saw or buckets of water, while the tips of the fingers on his left hand bear the marks of years of pressing down on guitar strings. As Burton pared off bits of the peach's flesh and brought them to his mouth, he looked at the backyard—the goats, the rabbits, the chickens, the vegetables––and smiled. The day's main tasks had been done.
He had good reason to be putting things in order. He was soon to get back to work on his other job, the music, departing for a brief tour of the east coast, and wanted to make things as easy as possible for his wife, Bailie Maxwell—whom he married on the farm earlier this year—and their two kids, while he was gone. "I'll do one big clean-up before I leave, and then all they'll have to do is put out feed and pick up the eggs," he said.
The tour would be in support of his new album, "Songs Of," his fourth as a solo artist. Burton initially came to acclaim as a member of the Welland indie-rock group "Attack in Black," which was active in the late aughts and has been on hiatus since 2010.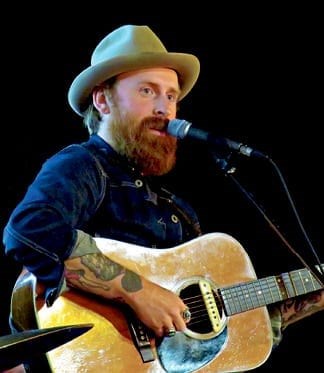 Burton's first few solo records, some of which were released under the name "Grey Kingdom," were mostly melancholic outings, the sort of indie-folk songwriting that you'd expect from a sensitive 20-something with a thick beard and acoustic guitar. But he feels "Songs Of" is different.
"In the past I wrote songs mostly for myself," he said. "About this thing or that thing that happened to me, what I thought and felt. Now, I'll write a song for my wife, write a song for my kids."
Burton technically is a business owner now, too. Along with a few other friends, he and Maxwell have a vintage clothing store in Fenwick, Friday's Child, though "store" might be too strong a description. Its Facebook page lists its hours as "Monday-Sunday—sometimes but not often but not never either," and Burton says that it's just as much a closet as shop. Much of the stuff isn't even for sale, and the group is happy if the store just pays its rent. More than anything, Friday's Child is a reminder of Burton's time on the road, since most of his contributions to the stock came from years of picking through thrift stores while touring, something that he still tries to do when he goes away.
All of those other responsibilities have undeniably made working more difficult for Burton.
"That's a big question that comes up in interviews––people are always saying 'You live on this farm, it must be so inspiring,' and I'm always like, 'Yeah, oh so inspiring,' but really, it can be tough, because it's so relaxing. I used to write a lot of songs about hardships…but now my life is pretty good. Everything's okay. My kids keep me up at night, from time to time, though usually they're just great. And so I could be out here writing, but sometimes I just want to sit on the porch, eat a peach, and listen to the silence."
On the last Sunday in August, Burton played a concert at Oast House Brewery, in Niagara-on-the-Lake. Wearing jeans and a denim jacket, he'd been hot in the green room and went outside to stand behind the stage while he waited for things to get going. The temperature inside had reddened his face, a colour intensified by the auburn of his beard, while his pale blue eyes matched his clothes and gleamed as the day went dark.
A woman walked past, looking sidelong at Burton. She smiled and then pivoted to approach him, seemingly trying to hide that she had planned to stop all along. She rummaged in her purse. "Would you sign this for my boyfriend?" she asked, pulling out an old Attack in Black CD. "He was too nervous to come over himself." Burton smiled and flushed further, and it was hard to tell whether he was himself abashed or if he was merely embarrassed on behalf of the man too afraid to ask for an autograph. When he had produced a marker and signed the disc, the woman said that her boyfriend would probably come over and say hello. "Tell him I'm very scary," Burton said.
By then the sun had disappeared and the evening had become cooler. Late arrivals to the show brought with them sweaters and blankets that they carried over their shoulders. Strings of incandescent bulbs threw a yellowed light on the rows of tables, and the crowd cheered when the opener, Oscar As, appeared onstage. Before returning inside to warm up again, Burton applauded As too, who turned out to be a talented young singer with a high-reaching falsetto. During one song, As pursed his lips and released a rich buzzing, which, when you closed your eyes, was a passable imitation for a muffled trumpet blast. Later, As forgot the first line to a cover he had intended to play, and broke into a string of curses while he tried to remember it. He moved on to another song after someone in the audience promised to look up the lyrics for him, but at that point his time was up and Burton's set was about to begin.
After 31 years of only having to worry about himself, Burton concedes that it took some time to grow accustomed to living in close quarters with his wife, and then his children. He gives a lot of thought to "rolling with the punches" though, and credits much of his maturation to this mantra. Three years ago, he and Maxwell were at the Ridgeville house to visit Daniel Romano, an Attack in Black bandmate who still lives in part of the home. On that day, the landlords were having a conversation with the other tenants about moving out.
"They're moving out?" Burton recalls saying. "Great! We'll move in." Two weeks after they relocated from London, he and Maxwell learned that they were going to have a child. Burton was unperturbed: Ridgeville seemed like a pretty good place to raise a baby.
But running just beneath the surface of all of Burton's enthusiasm for this quiet life is the acknowledgement of a sacrifice he might be making. While he's still reasonably productive, musically, he spoke with faint envy of the success that his former bandmates have had. Ian Kehoe, Attack in Black's bassist, has been writing albums at an unearthly pace of three or four per year. Burton said that Kehoe's prolificness "Makes me think: 'How does he do it?'" And then there's Romano, who was nominated for a Juno in 2016 and is currently on the road in Europe in support of his new album, "Modern Pressure." In describing Romano's tour, Burton said "I don't really follow it too much. It's more like, 'My friend's gone—I'll miss him, though I'm happy he's doing what he loves.'"
Nevertheless, Burton is so disconcertingly polite that it's difficult to imagine him harbouring anything resembling true jealousy. Even if he had garnered, like Romano, rave reviews on NPR's Fresh Air, the sort of mammoth commitment involved with a multi-month overseas tour is not something that would complement a young family. Or, for that matter, young chickens. The day after the Juno Awards ceremony this spring, Burton posted a photo on Instagram of himself in work gloves, a toque, and headlamp, holding a newborn kid. He captioned it: "While you were watching the @thejunoawards last night, I was in the barn helping birth two baby goats. I don't know…both things are cool I guess or whatever."
At the deepest level, then, Burton has embraced a certain irony of being a touring musician voluntarily tied down to his land and family. In the lyric video for one of the new album's songs, Burton sings of "pedestaled love" while footage of romping farm animals rolls in the background. It's easy to imagine him delighting in having subverted the conventional solemnity of the form, even if it's a little hard to take the music seriously while a cow's swollen udder swings on the screen.
Before a Willie Nelson tribute show earlier this year in Toronto, at which he performed two songs, Burton announced online that he would be bringing eggs to the concert for all interested urbanites. And if the rabbits continue to reproduce at the rate they are now (which is likely—they're rabbits), he mused, only half-jokingly, that he could start bringing those to the merchandise table, too.
"Spencer Burton," the man who appears onstage, is a recognizable though sharply different version of Spencer Burton the civilian. While in person he can be deferential, and seems perpetually concerned that he is causing offence, at the microphone Burton vibrates with loose energy. In his Niagara-on-the-Lake performance, he opened with a polished rendition of "Unmistakeable Love," a song from the new album, bending his knees to the beat as he sang. "That's the first love song I ever wrote that didn't end in absolute heartbreak. Yet." he added after a long pause. "That was about four dad-jokes in one sentence. I've never been more proud."
A few songs in, just as Burton was about to launch into the story of how he came to write for his kids, a woman with a baby in her arms shouted out that it was her son's first birthday and he was there for the show. Burton shifted course mid-sentence, directing the woman to bring the boy up to the front. "All right…'Kevin,'" Burton said, guessing wildly at the boy's name. (It was actually "River." Burton continued calling him "Kevin" to great comedic effect.)
"I'm going to sing you a song for your birthday." He started strumming rhythmically: "I'm a duck, I'm a dog, I'm a squirrel, I'm a frog, I'm whatever…I want to be."
"I wrote this song for my kids, obviously," Burton told the crowd, which was laughing uproariously, between verses. When he broke into the chorus ("My mother told me that I am the best, so I guess I'll wear a big red 'S' on my chest. Cause I'm a hero, I can fly, I can lift things up high, Yeah I'm whatever…I want to be") even he was having trouble stifling a smile.
Towards the set's end, Burton played "Small Town," another new song. He made reference to his home—"the good life," as he later called it—before beginning the track. Its lyrics are perhaps Burton's simplest, and for this reason, perhaps also his most transparently honest.
"Livin' in small towns, a small life. Nobody knows me, but everyone does."
It grows more specific later on: "We got them chickens, clucking around the yard. No one understands why. We never travel too far."
When I asked him about it, Burton said that it wasn't directed to anyone in particular, though it is clear that Burton has encountered enough people incredulous at where he lives to be able to address a disembodied "no one." But as earnest as the words are—and surely he sings them with extra oomph when performing in cities—on that Sunday night, it wasn't hard to imagine that many people in attendance could understand, considering that the stage on which Burton performed was built on the bed of an old truck, not unlike something you'd expect to see sitting behind a woodpile at Burton's place in Ridgeville. Before he walked off for the last time, he looked over and past the audience and the patio, to where those incandescent bulbs cast just enough light to see where the rows of fruit stretched out into the night. He could have been playing in his yard.
On the farm, a few days before that show, one of Burton's goats took to ramming his horns into the enclosure's fence, Then, after entangling himself, he pulled back and forth, further bending the wire.
Burton sighed. "I don't know why he's doing that." He walked over and tried to straighten the metal. "Good thing we're putting in a new fence anyway." I observed that building a sturdy barrier and a new henhouse were signs that they'd be living there for a while.
Burton smiled, turning to look at where his property runs to the cherry orchard, and then up the hill to the tree where he and Maxwell were married. "No," he said. "We're not going anywhere."