You never know what you'll find next in Jim Ryan's auto shop
One recent Wednesday morning—though it could have been any day, since he is almost always there—Jim Ryan was in his auto shop on the corner of Highway 20 and Balfour Street. It was one of spring's first teases, but all of the shop windows were still closed, and inside there was a hanging odour of axle grease and cigarette smoke. Stacks of hand-written invoices on yellow paper lingered on a counter. A radio station contractually forbidden to play music released after 1975 was on at a reasonable volume. The back of Ryan's shop is all cars, muscled and antique, but in the front is his collection of old…things. Ryan welcomed his visitor and took him back in time.
"Let me just switch on some lights," said Ryan, who is in his early 70s. He moved his tall frame through narrow laneways between cabinets and reached for some lamps.
"I really have no idea how many things I have here," he said, once the room had been made brighter. "I'd really have no idea where to start counting. Even the insurance people don't know. You can't insure all this." He was right.
Ryan's west wall is coated in Western memorabilia and toy guns (there are no real guns in the building). There are leather saddles and plastic saddles, old leather belts, cowboy hats on mannequins and cowboy hats on saddles, and saddles and guns on plastic horses, like the kind that you'd find bouncing up and down at a shopping mall.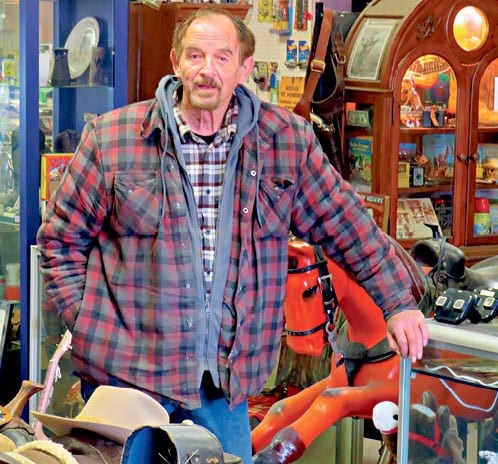 On the west side there are horse clocks, and coonskin caps, and a replica lamp from the film, "A Christmas Story," alongside a replica of the gun with which "You'll shoot your eye out, kid." There are acoustic guitars hanging on the wall. There is so much western stuff that even Ryan, gazing at his own collection, seemed overwhelmed. He walked to one section that was arranged as a sort of shrine.
"I had the opportunity to spend a lot of time around Chuck Aylett," said Ryan, pointing to a series of photos. The man in them had strong sideburns, a big hat, and looked like John Wayne's not-lost brother.
"He was right out of the movies. A real cowboy. And he was from here," said Ryan.
He explained that Aylett had long owned a horse farm nearby, training and riding horses.
"I met him when I was about sixteen and working at a garage," said Ryan. "I knew him for a long time. He was an artist too. See that leather belt there?" Ryan pointed to an ornate design with "Chuck" inscribed in the centre. "He made that all himself."
"One of my favourite things in here are those steer horns," said Ryan as he looked up to a set looming above him. "That's the picture of Chuck's steer, and those are its horns. It died of natural causes."
Ryan moved back to the centre of the room. He picked up a small plastic gun and folded its tip back into the barrel, and then pulled the trigger. Out popped a "BANG!" banner.
"Just a joke," said Ryan. "Like from the cartoons."
Ryan has had his shop on Highway 20 since 1999, after a fire hit his previous location in Ridgeville. Friends banded together after the fire for a fundraiser, raising $30,000 in one day. One of those friends was the "Mayor of Fenwick" Gary Chambers, who walked into Ryan's shop as Ryan was touring his museum.
"You burned in the fall, didn't you?" said Chambers, who was wearing his uniform Canadian tuxedo and sipping from a large Donut Diner coffee. Chambers and Ryan were born a week apart and have known each other since they were eight.
"Yeah, it was in September," said Ryan. "And the fundraiser was that fall too. I had a lot of good friends who put in a lot of work to make that happen."
Chambers shook his head.
"It's not work when you're doing it for someone," he said. "What did we call it? 'Saving Ryan's Dream'?"
Ryan's shop in Ridgeville was the site of a former tractor dealership next to Wes Crowe farms. There is a big house on the property now, at the end of a long driveway.
"It's supposed to be a nice home," said Ryan. "I've never seen it. Every time that I drive by the place I look the other way. I always wanted to build a house back there…but it never worked out."
Chambers wandered over to a counter in the centre of Ryan's exhibits, right next to a cabinet filled with Hopalong Cassidy memorabilia.
"My favourite thing in this place is right here," said Chambers, opening a cigar box on a counter. "Wait a minute. It's not here. But what are these?"
He pulled out a smooth stone with a sharp edge and turned it over several times in his hand.
"This is an Indigenous skinning stone," said Chambers. He opened up another cigar box.
"And these are all arrowheads. Look at the detail here, the work that went into that. They hammered these little notches in there to tie it to the shaft. Unbelievable."
Ryan nodded. "And then, on the last hammer—smash," he said, miming the breakage of a carefully crafted piece.
Chambers moved back over to the western wall to peer at another display case filled with First Nations arrowheads.
Ryan said that, in all honesty, he didn't know where he got most of the stuff.
"My brother gave me a lot of it," he said. "And birthdays, Christmas, Father's Day. This is what people get me."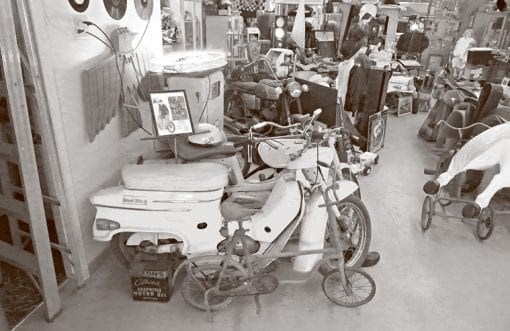 Some of the bigger items on display have been Ryan's for a while. The centrepiece of the room is a 1961 Thunderbird.
"I bought it the year my daughter was born, and gave it to her on her seventeenth birthday," he said. "She drove it around for a few years, and then marriage, kids for her, and it's back in here."
East of the Thunderbird is Ryan's sport and gaming area. Old leather boxing gloves rest on the wall near a catchers mitt. In a famous photograph, Gordie Howe hooks a hockey stick around the neck of a young Wayne Gretzky.
"The pinball machines used to be front and centre right there. Then a friend brought over that piano, and it blocks them off," said Ryan. "I can't play it. I always wanted to."
"Me too," said Chambers. "But I can't carry a tune in a hand-basket. I've always been jealous of those with a natural musical ability."
The two made their way back to the front of the room. Ryan got sidetracked along the way. He stopped and picked up a set of a black plastic shoes, monkeyed with controls on their bottom, and then placed them on the ground. "The Twist" started to emanate from a speaker on them, and the shoes shifted around on the floor, moving to the beat.
"I just love useless stuff," said Ryan, smiling.
Back on the counter, near the box of arrowheads, he held a small plastic contraption with two eyeholes to his face.
"Take a look," he said, handing the View-Master to his visitor. On the reel were a series of images of a cowboy riding a bucking horse.
"That's all it took to amuse a kid back in the day," he said wistfully. Ryan and Chambers looked at an early arcade game, a little booth with a steering wheel and a film wheel projected on the screen in front.
"Oh, these things," said Chambers. "I remember all you could hear was the sound of the reel right above your head."
Back near the front of the room, close to the shop's entrance, Chambers pointed to a wall of oils and lubricants.
"That's wheel grease there for a horse-drawn buggy," he said. "That's a good one, Jim."
Ryan agreed. Soon, he was again preoccupied with another pair of dancing footwear, this time white boots.
"I've got to go lube this up," he said, disappearing into the shop side. Chambers took a long look around while his friend was gone.
"Every time I come in here I find something new," he said.
Ryan returned and put down the white boots, which promptly began to sing, "These Boots Were Made For Walkin'."
"Good old Nancy Sinatra," said Ryan. "She couldn't really sing, but people had other reasons for liking her."
"It would be neat if you could somehow get those boots on to Marilyn's feet," said Chambers, referring to a mannequin sitting nearby that was supposed to be Marilyn Monroe, but which had a ways to go before achieving even a passing resemblance.
"This is Fenwick's best-kept secret," declared Chambers. "Not many people know about it. But there were those people that came in—what country were they from? Norway?"
"Belgium," said Ryan.
"Right. They had a translator or guide with them, and I don't even know how she knew about the place. But they were crying when they saw all this stuff," said Chambers.
Ryan smiled at the memory. He picked up a framed photograph and wiped off some dust.
"Here we are. 1958 baseball champions," he said. "I think that's me in the back row."
Chambers took the photo and squinted at it, reeling off the names of the kids lined up.
"That might be me in the front there. Look at all those freckles," he said. "You know what? I still have my cleats. I found them up in my mother's attic."
He turned to Ryan.
"Do you want them?" he asked his friend.
"Absolutely," said Ryan, without thinking. "I'll put them up on my sports wall."