The Pelham Art Festival, a highly anticipated event in the local arts scene, returned with a full show after last year's modified, socially distanced edition. Held at the transformed Meridian Community Centre Accipiter ice rink, the festival presented the stunning work of 81 talented artists, with 11 artists exclusively showcasing their pieces online. The online Festival, which supplemented the in-person Festival, took place from May 8 to May 18, on their website.
The festival was an interactive destination for art enthusiasts searching for that perfect original fine art piece. With its diverse lineup of artists, the Pelham Art Festival offered visitors a unique opportunity to explore a wide range of artistic styles and find pieces that resonate with them on a personal level.
Heidi TeBrake, the Pelham Art Festival chair, expressed her excitement for this year's event, stating, "We want to create an unforgettable experience where people can discover that special piece of art that speaks to them. Our goal is to support local and distant artists and provide a platform for them to showcase their incredible talent."
Over the past 36 years, the festival has made a significant impact on the community, having donated approximately $472,000 back to various initiatives. Beneficiaries of the funds the Pelham Art Festival raised include the Lincoln Pelham Library, scholarships for students at local high schools entering post-secondary fine art studies, and community art programs.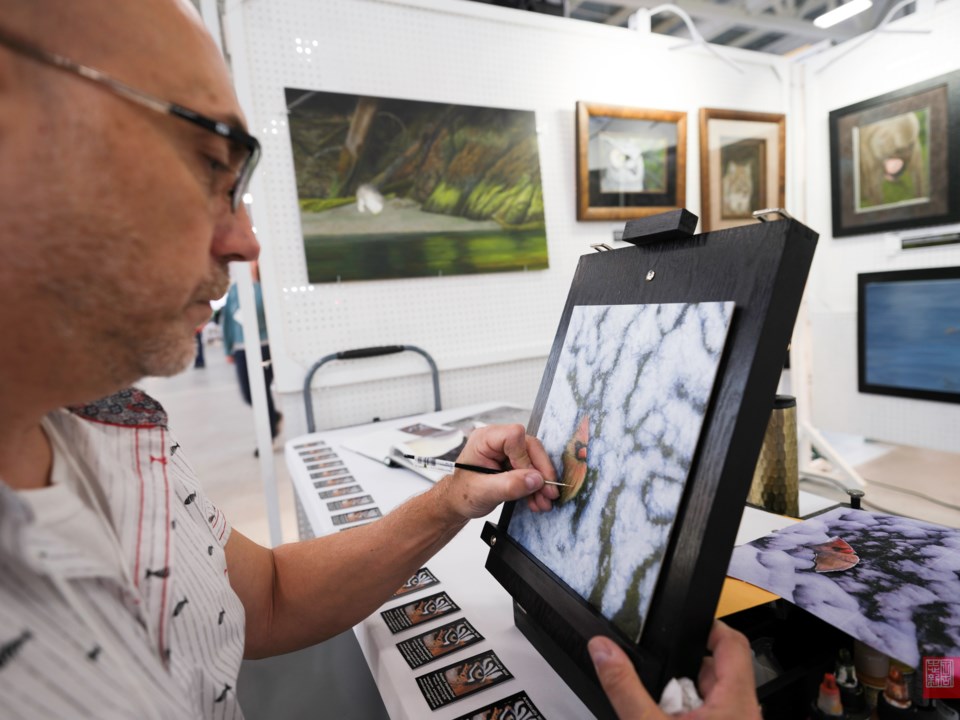 The festival is run by a committee of enthusiastic art lovers, and the event has a special link with the local library, which was the original beneficiary of the festival's fundraising efforts.
"The library really is a center for art and culture in town, so it is a hub for culture, and that is why we really believe so strongly in supporting the library," TeBrake said.
The festival donated $12,000 to the library last year, $2,000 for scholarships and $500 for other programs, and TeBrake expects a similar donation to be made this year.
In addition to fundraising, the festival also provides a platform for artists to showcase their work, and the juried selection process ensures that the art displayed is of high quality, original and of a balanced variety.
"An artist told me that when she shows her work here, this show makes her feel like a real artist "— that was the nicest comment," TeBrake said.
The arena was transformed into an art gallery, and artists, art lovers and customers appreciated the hospitality offered to them, and there was a general tone of artists being happy to display and sell their work and of guests appreciating the talent of the artists.
The Pelham Art Festival, which took place from Friday, May 12, to Sunday, May 14, offered a variety of engaging activities for visitors of all ages—the opening night on Friday featured live music by the Casson, Mundy, and Lucas Jazz Trio, along with refreshments and a wine garden.
Saturday and Sunday were family-focused, offering an art scavenger hunt for children, a chance to vote for a People Choice piece of art and also an opportunity to vote for their favourite art piece based on the theme "celebrate imagination." Creative guests enjoyed the chance to contribute to a community art project by painting a small square to make a collaborative painting which is now complete. Classical Guitar, delicious lunches, baked goods and willing volunteers provided the ambience.
Throughout the weekend, visitors had the chance to immerse themselves in the world of art, appreciate the creativity of local artists, and support the flourishing arts community in Pelham. The festival served as a platform for established and emerging artists to display their work and connect with art enthusiasts.
"The Pelham Art Festival has always been about bringing people together through art. This year's event exceeded our expectations, and we are thrilled to see the community's enthusiastic response," said TeBrake.
The Pelham Art Festival continues to foster a vibrant arts scene in the region, providing a platform for artistic expression, community engagement, and appreciation of fine art. The festival remains a must-attend event for art lovers and supporters of local talent.
If you would like to volunteer for next year's Pelham Art Festival or to participate as an artist in the next show, visit their website for more information on how to apply.
For more information about the 2024 Pelham Art Festival and upcoming events, visit them online or follow them on Facebook and Instagram.