Summer time is party time in Canada, a chance to string up those patio lanterns and enjoy warm summer nights in the great outdoors. Of all the ingredients for a great summer party to consider, one of the most important is your audio! Having the right source for sound is as simple as a trip to Thomas TV to pick up one of the best audio innovations for summer party season, the Samsung MTZ-ST50B Sound Tower.
"This is a new product you may not have noticed," said Tyler Thomas, owner of Thomas TV. "With 240 watts of power, a built-in battery, and uniquely designed bi-directional speakers, it's a great way to take your music anywhere."
The Samsung sound tower has many exceptional features that make it a great product for people who like to entertain in the home and in outdoor spaces. For starters, the Samsung sound tower has various sound modes that can easily be found on the remote control; with a press of the button you get predefined equalizer settings including Party, Standard, HipHop, EDM, Rock, Latin, House, or Reggae.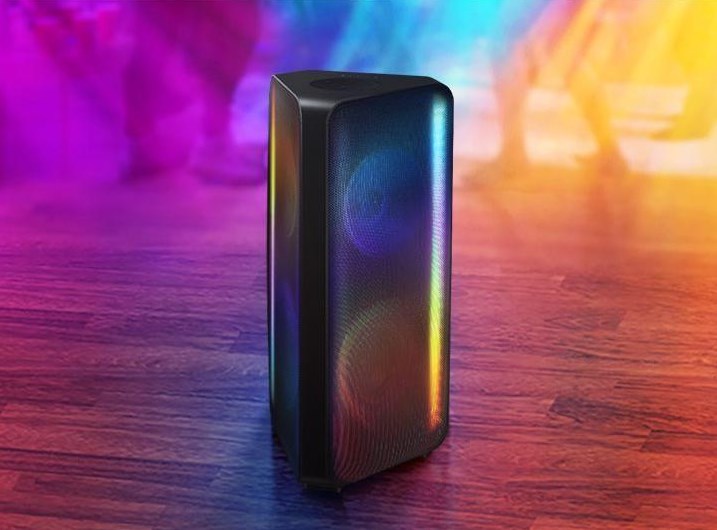 Customize the setting for the music you love most, and easily adjust bass levels using the same remote. With an internal battery that holds up to 18 hours of charge, you can bring your Samsung sound tower to the beach, the park, your boat, the campground, or any other outdoor space where music should be played at loud volumes!
"There's also no need to panic if this unit gets splashed," said Thomas. "It has an IPX5 Rating for water resistance whether it rains or is sitting on the dock or by the pool. It also has a built-in set of LED party lights that allow you to set the mood with customizable LED lighting effect. Whether you want party lighting, ambient light, or something more suitable for dancing, simple adjust the light setting."
The Samsung sound tower is also versatile for MC duties or karaoke fun. The ST50B model has a mic input and a multi-connect feature that allows you to connect two smart devices simultaneously and share the sound tower with a friend. It also has a group play feature that allows you to link up to 10 sound towers together. This versatile feature allows you to cover large areas with lots of quality sound, perfect for use at weddings and large gatherings.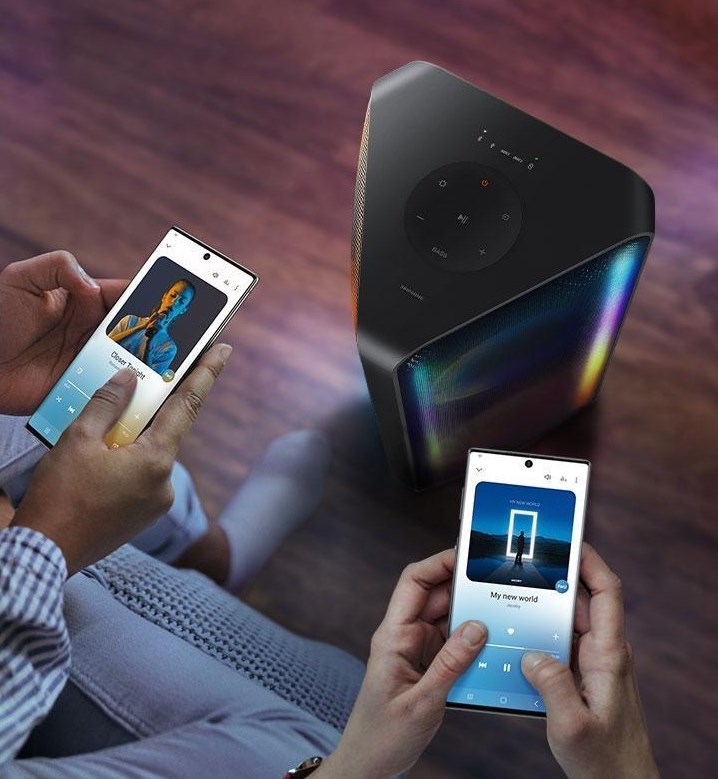 "You can pair up to 10 sound towers between all of the models wirelessly through group play and easily control them through the free Samsung app," said Thomas. "Just download the app to control everything from the built-in LED lighting to sound effects and even your EQ setting, all from your Android or IOS device."
Thomas said the default mode on the Sound Tower is PARTY, which is a good indicator of why Samsung built these versatile products. Returning the unit to default settings is easily done by turning the unit off, then pressing and holding the PLAY/PAUSE button for more than five seconds.
One important note to remember: when using your phone as a source be sure to check the EQ of the music app you are streaming from as well. This can change the overall volume and bass levels of your music. Sometimes Bluetooth connections are affected by the phone's volume control. This can also affect performance. Any changes you make to this EQ will also affect your Sound Tower.
You can also use the sound tower when your stream movies; to enhance sound effects just connect your Sound tower to your TV using BT. It's great if you have an outdoor TV or a projector for backyard movie night! You can take it to the backyard and Bluetooth your favourite music around the pool or hot tub!
Learn more about the amazing Samsung Sound Tower. Visit Thomas TV at 130 Thorold Road West in Welland. Or connect online here.